STINKING MAD MAKING COURTS OF INDIA

http://en.wikipedia.org/wiki/Parveen_Babi
Parveen Babi
(
Hindi
: परवीन बाबी,
Urdu
: پروین بابی) (
April 4
,
1949
-
January 20
,
2005
) was an
Indian
actress
.
She accused many foreign dignitaries and her former co-star, Amitabh Bachchan, of conspiring to kill her but her petition in court was dismissed for lack of evidence. She also filed an affidavit in the special court hearing the 1993 serial bomb blasts case, claiming that she had evidence to show, but she did not turn up in court after being summoned saying that she was afraid of being killed.
(April 4, 1949 - January 20, 2005)=55
SHE WAS 55 YEARS OF AGE WHEN SHE DIED AND HER DEATH WAS ALSO LATRINED BY ORGANIZED CRIME-ISLAMIC MOUNTING BRITAIN; WHO MAKE DALITS OF GOOD PEOPLE IN THIS LIFE ITSELF BY SURROUNDING THEM WITH TERMITES AND VAMPIRES AND IF THE PERSON SAYS SOMETHING TO THE PUBLIC THEY ARE TERMED AS MAD
"TUM KO SARE LOG TANG KAR RAHE HAIN ?
"tUM KYA KOI VIP HO"
ARE THE WORDS OF GUTTERS.
YOUNG WOMEN OF 40 ARE CALLED BUDDHIS BY SENDING WOMEN OF SHRIVELLED ,WHITE HAIR ED COUNTENANCE WHEREVER THEY GO ,IF THEIR HUSBANDS HAVE GUTTERED THEIR MARITAL BEDS WITH ISLAM BY TAKING EMPTY HEADED BAI OF A YOUNG WIFE.
ALL THE LOWER MENIAL CLASS SURROUND THE HELPLESS EDUCATED WOMAN AND SUCK HER BLOOD AND THE POLICE ALSO DO NOT REGISTER COMPLAINTS.

INDIRA GANDHIJI ; JUSTICE ADHIKARIJI OF JABALPUR HIGH COURT,THE TELECAST OF BOBBY BY DOORDARSHAN ON JAGJIVAN RAM RALLY DAY AT RAMLILA GROUND ALL SHOW HOW GOOD GOD FEARING PEOPLE'S LIVES ARE LATRINED AND GUTTERED IN THIS LIFE ITSELF.
THIS TO SERVE AS AN EXAMPLE TO GOD FEARING PEOPLE AND ALSO

MAJAA OF LUSTED HEINOUS KILLERS THAT THE JUDGE AND THE POLICE ARE THE REAL LORDS OF BRITAIN NOT GOD.

(April 4, 1949 - January 20, 2005)=55
| | |
| --- | --- |
| Searched for : 22 | Page 1 of 4 |
| | | |
| --- | --- | --- |
| Sl No. | Section Number | Section Heading |
| 1. | SECTION( 1. ) | Short title, extent and commencement. |
| 2. | SECTION( 2. ) | Definitions. |
| 3. | SECTION( 3. ) | Punishment for enforcing religious disabilities. |
| 4. | SECTION( 4. ) | Punishment for enforcing social disabilities. |
| 5. | SECTION( 5. ) | Punishment for refusing to admit persons to hospitals etc. |
She was found dead in her Mumbai apartment on January 20, 2005 after her residential society secretary complained to the police that she had not collected milk and newspapers from her doorstep for two days.She was found to have gangrene of the foot as a complication of her diabetic condition. The police ruled out any foul play.
Her success did not run into the mid-eighties as she had left the film industry to move to
New York
in
1983
. Many of her completed films released in the following years right uptill her last film releasing in 1988. in New York she became associated with the spiritual philosopher
U. G. Krishnamurti
. She returned to
Mumbai
in 1992 where she was unrecognizable as her former self after having put on a considerable amount of weight. She accused many foreign dignitaries and her former co-star, Amitabh Bachchan, of conspiring to kill her but her petition in court was dismissed for lack of evidence. She also filed an affidavit in the special court hearing the
1993 serial bomb blasts case,
claiming that she had evidence to show, but she did not turn up in court after being summoned saying that she was afraid of being killed.
[2]
Parveen had developed a persecution complex possibly stemming from other undiagnosed physiological factors.Her father Vali Mohammed Babi, a Gujarati
Muslim
,.

The Babi Nawabs of Junagadh went on to conquer large territories in southern Saurashtra. It was rising of
Babi
dynasty. His descendants ruled over the state for the next two centuries, first as tributaries of
Baroda
, and later under the
suzerainty
of the British.
Nawab
of babi dynasty.
http://en.wikipedia.org/wiki/Junagadh
Accession Process of Junagadh
Although the states were in theory free to choose whether they wished to accede to India or Pakistan, Mountbatten had pointed out that "geographic compulsions" meant that most of them must choose India. In effect, he took the position that only the states that shared a border with Pakistan could choose to accede to it.
The nawab of Junagadh, a princely state located on the south-western end of Gujarat and having no common border with Pakistan, chose to accede to Pakistan ignoring Mountbatten's views, arguing that it could be reached from Pakistan by sea. The rulers of two states that were subject to the suzerainty of Junagadh — Mangrol and Babariawad — reacted to this by declaring their independence from Junagadh and acceding to India. In response, the nawab of Junagadh militarily occupied the states. The rulers of neighbouring states reacted angrily, sending their troops to the Junagadh frontier and appealed to the Government of India for assistance. A group of Junagadhi people, led by Samaldas Gandhi, formed a government-in-exile, the Aarzi Hukumat ("temporary government").[7]
India believed that if Junagadh was permitted to go to Pakistan, the communal tension already simmering in Gujarat would worsen, and refused to accept the accession. The government pointed out that the state was 80% Hindu, and called for a plebiscite to decide the question of accession. Simultaneously, they cut off supplies of fuel and coal to Junagadh, severed air and postal links, sent troops to the frontier, and reoccupied the principaliites of Mangrol and Babariawad that had acceded to India.[8] Pakistan agreed to discuss a plebiscite, subject to the withdrawal of Indian troops, a condition India rejected. On 26 October, the Nawab and his family fled to Pakistan following clashes with Indian troops. On 7 November, Junagadh's court, facing collapse, invited the Government of India to take over the State's administration. The Government of India agreed.[9] A plebiscite was conducted in February 1948, which went almost unanimously in favour of accession to India.[10]
[edit]
Post independence
Junagadh
Junagadh
is a city and a
municipal corporation
, the headquarters of
Junagadh district
in the
Indian
state
of
Gujarat
. The city is located at the foot of the
Girnar hills
. Literally translated, Junagadh means "Old Fort".
It is also known as "Sorath", the name of the earlier Muslim-ruled Princely State of Junagadh.

History
[edit]
Mauryan dynasty
An impressive fort, Uperkot, located on a plateau in the middle of town, was originally built by the Mauryan Chandragupta in 319 B.C.E.. It was covered over for 300 years, then rediscovered in 976 C.E. It was besieged 16 times over an 800-year period. One unsuccessful siege lasted twelve years.[1]
An inscription with fourteen Edicts of Ashoka is found on a large boulder within 2 km of Uperkot Fort[2]. The inscriptions carry Brahmi script in Pali language and date back to 250 B.C.E. On the same rock are inscriptions in Sanskrit added around 150 C.E. by Mahakshatrap Rudradaman I, the Saka (Scythian) ruler of Malwa, a member of the Western Kshatrapas dynasty[3]. Another dates from about 450 C.E. by Skandagupta, the last Gupta emperor. Old rock-cut Buddhist "caves" in this area, dating from well before 500 C.E., have stone carvings and floral work. There are also the Khapra Kodia Caves north of the fort, and the Babupyana Caves south of the fort.
The Maitraka dynasty ruled Gujarat in western India from 475 to 767 C.E. The founder of the dynasty, general Bhatarka, a military governor of Saurashtra peninsula under the Gupta empire, established himself as the independent ruler of Gujarat approximately in the last quarter of the 5th century[4]. However, James Tod states Maitraka rule ended as early as 524 C.E.[5].
In the independence and partition of India and Pakistan in 1947, the 565 princely states were given a choice of whether to join India or Pakistan. The Muslim Nawab of Junagadh, Nawab Mahabat Khanji, whose Muslim ancestors had ruled Junagadh and connected small principalities over the last seven hundred years, decided that Junagadh should become part of Pakistan, which was three hundred kilometres across the Arabian Sea. However, Junagadh had a predominantly Hindu population which favoured joining India, and furthermore, it was surrounded by India on three sides, with the Arabian Sea to the West. The unsettled conditions in Junagadh had led to a cessation of all trade with India and the food position became precarious: the region was in crisis. The Nawab was forced to flee to Karachi with his family and established a provisional government. Before leaving the Nawab had emptied the state treasury of its cash and securities.
The Dewan of Junagadh, Sir Shah Nawaz Bhutto, the father of the more famous Zulfiqar Ali Bhutto, now decided to invite the Government of India to intervene. Bhutto wrote a letter to Mr. Buch, the Regional Commissioner of Saurashtra in the Government of India:
Letter of Intervene
Dear Mr. Buch,

After discussion with Mr. Samaldas Gandhi at Rajkot on October 1, Capt. Harvey Jones, senior member of Junagadh State Council, brought certain proposals for the consideration of the Council. The Council were prepared to accept them under protest but before a final decision could be communicated to Mr. Samaldas Gandhi it was thought necessary to ascertain the opinion of the leading members of the public. A meeting was therefore held this evening and the view of the leaders was unanimously expressed that instead of handing over the administration to the Indian Union through the so-called Provisional Government, it should be directly given over to the Indian Union, through the Regional Commissioner at Rajkot.

The Junagadh Government, therefore, has requested that in order to avoid bloodshed, hardship, loss of life and property and to preserve the dynasty, you should be approached to give your assistance to the administration particularly with a view to preserve law and order, which is threatened by aggressive elements from outside. This arrangement is sought pending an honourable settlement of the several issues involved in Junagadh's accession. We have already wired to His Excellency Lord Mountbatten, Mahatmaji, Prime and Deputy Prime Ministers of India, Hon'ble Abul Kalarn Azad and the Governor-General and Prime Minister of Pakistan.

I hope you will kindly respond to this request.

Yours sincerely,
Sd/S.N. Bhutto,
Dewan, Junagadh.
India then assumed control over the entire state of Junagadh. A few months later a plebiscite was held in which more than 190,000 voted to be a part of India, while only 91 favoured to be a part of Pakistan.
The Government of Pakistan protested, saying that since the Nawab had chosen to accede to Pakistan (September 15, 1947), the Dewan had no authority to negotiate a settlement with India.Also,if India could capture Kashmir because it's ruler had decided for Kashmir to join India(with an over whelming Muslim majority)then Pakistan could claim Junagadh. Nonetheless, Junagadh became a part of the Indian state of Saurashtra until November 1, 1956, when Saurashtra became part of Bombay state. Bombay state was split into the linguistic states of Gujarat and Maharashtra in 1960.
Shri Swaminarayan Mandir, Junagadh - Mandir made by Lord Swaminarayan
Swami Vivekanand Vinay Mandir, Junagadh - It is one of the oldest secondary and higher secondary schools of Gujarat. Widely spread in a very big land with a very large playground, gardens and a very oldish dombs. The very special thing about this school is that Dhirubhai Ambani studied in the same college and till date the Birthday of this person is widely celebrated with a verious cultural programmes. Every year one of the Ambani family's visit is must. Now a days very famous for 11th and 12th standard (Science Stream).


Acharya Shri 108 Sanmati Sagarji Maharaj giving blessings to Shri R.P.Jain.

Akarshan (1988)

Friday, May 23, 2008

Saturday, May 24, 2008
http://en.wikipedia.org/w/index.php?title=Palestine_
Liberation_Organization&oldid=109055135
Palestinian National Authority

This article is part of the series:
Politics and government of
the Palestinian National Authority

A "Hijra" or a transvestite chances upon an abandoned baby in a dustbin. Unable to trace the parents, he adopts the baby. The truth is kept hidden from her that he is not a normal person, until when she finally learns about his true identity she says 'that he cared for me like a father and I don't consider him to be not normal'. The film portrays the biased society that we live in and how we stereotype people for their reputation.





According to a 1993 National Criminal Intelligence Service report, the PLO was "the richest of all terrorist organizations" with $8-$10 billion in assets and an annual income of $1.5-$2 billion from "donations, extortion, payoffs, illegal arms dealing, drug trafficking, money laundering, fraud, etc.". The Daily Telegraph reported in 1999 that the PLO had $50 billion in secret investments around the world including Zimbabwe and Somalia.[5]








www.tribuneindia.com/2002/20020822/nation.htm
BJP-morcha alliance for J&K poll
Thursday, August 22, 2002,
Chandigarh, India
New Delhi, August 21
Despite being opposed to the bifurcation or trifurcation of Jammu and Kashmir, the BJP today decided to have an alliance with the newly formed RSS-backed Jammu State Morcha (JSM), which is in favour statehood for Jammu, for the coming four-phased poll in the state beginning September 16.









































Prime Minister Atal Behari Vajpayee, BJP President Venkaiah Naidu, HRD Minister Murli Manohar Joshi at the BJP election committee meeting in New Delhi on Wednesday.
— PTI
Praveen Babi to move SC
Mumbai, August 21

Film actress, Praveen Babi, who has been in the news for claiming to possess evidence against actor Sanjay Dutt in 1993 bomb blast case, yesterday said she would move the Supreme Court soon against the special court order, rejecting her plea to tender evidence on the issue. "I will file a petition in the apex court within 30 days and place before it incriminating evidence against Dutt", Babi, told reporters at her Juhu residence.









o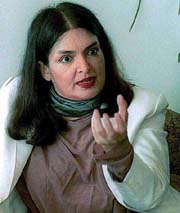 02


Former Bollywood actress Parveen Babi addressing
a press conference at her


residence in Mumbai on Tuesday.— PTI phot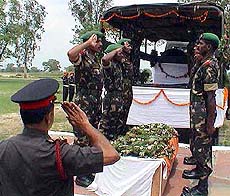 Army personnel pay last respects
to the mortal remains of Colonel H K Sarawat,
who was killed in a terrorist attack
in Srinagar on Tuesday,
at Meerut on Wednesday.
—PTI photo
Statements made by members of the PLO
On fighting against Israel:
"I come bearing an olive branch in one hand, and the freedom fighter's gun in the other. Do not let the olive branch fall from my hand." -- Yasser Arafat, Chairman of the PLO (November, 1974, while speaking at the United Nations)
"This is my homeland; no one can kick me out." -- Yasser Arafat's reply to Ariel Sharon's threat to expel him from the occupied territories. September 11, 2003.
"We plan to eliminate the state of Israel and establish a purely Palestinian state. We will make life unbearable for Jews by psychological warfare and population explosion... We Palestinians will take over everything, including all of Jerusalem." -- Yasser Arafat, Chairman of the PLO (in front of an Arab audience in Stockholm in 1996)
"Whoever thinks of stopping the uprising before it achieves its goals, I will give him ten bullets in the chest." --Yasser Arafat, Chairman of the PLO



"We know only one word: Jihad, Jihad, Jihad. When we stopped the intifada, we did not stop the jihad for the establishment of a Palestinian state whose capital is Jerusalem. And now we are entering the phase of the great jihad prior to the establishment of an independent Palestinian state whose capital is Jerusalem...We are in a conflict with the Zionist movement and the Balfour Declaration and all imperialist activities." --Yasser Arafat, Chairman of the PLO (During an October 21,1996 speech at the Dehaishe refugee camp)
On accepting Israel:
"Palestinians are no strangers to compromise. In the 1993 Oslo Accords, we agreed to recognize Israeli sovereignty over 78 percent of historic Palestine and to establish a Palestinian state on only 22 percent." -- Saeb Erekat, Chief Palestinian negotiator, 5 August 2000
"Consequently, the PLO undertakes to submit to the Palestinian National Council for formal approval the necessary changes in regard to the Palestinian covenant." --Yasser Arafat, Chairman of the PLO (in the exchange of letters with Israel on 9 September 1993)
"Israel must not demand that the PLO alter its covenant, just as the PLO does not demand that the Jewish nation cancel the Bible." --Ziad Abu Ziad, senior PLO official (in a speech to the American Jewish Federation, 23 October 1993)
In his 22 April 2004 interview with the Jordanian newspaper Al-Arab, the PLO minister still living in Tunisia Farouk Kaddoumi said that the PLO charter was never changed so as to recognize Israel's right to exist. "The Palestinian national charter has not been amended until now. It was said that some articles are no longer effective, but they were not changed. I'm one of those who didn't agree to any changes." He said also: "...the national struggle must continue. I mean the armed struggle... Fatah was established on the basis of the armed struggle and that this was the only way to leading to political negotiations that would force the enemy to accept our national aspirations. Therefore there is no struggle other than the armed military struggle... If Israel wants to leave the Gaza Strip, then it should do so. This means that the Palestinian resistance has forced it to leave. But the resistance will continue. Let the Gaza Strip be South Vietnam. We will use all available methods to liberate North Vietnam."
"If you are asking me, as a man who belongs to the Islamic faith, my answer is also "From the river to the sea," the entire land is an Islamic Waqf which cannot be bought or sold, and it is impossible to remain silent while someone is stealing it..." -- Faisal Husseini (1940-2001), Fatah leader and PA Minister for Jerusalem, 'Al-Arabi' (Egypt), 24 June 2001.[17] Similar statements were made in the newspaper 'As-Safir' on 3 March 2001.[18][19]
See full-size image.
www.southasianmedia.net/images/srilanka-flag.gif
597 x 302 - 8k
www.thecommonwealth.org/.../139452/
See full-size image.
www.thecommonwealth.org/Shared_ASP_Files/Uplo...
399 x 455 - 32k
Image may be scaled down and subject to copyright.



See full-size image.

www.seafoodfromnorway.com/binary?id=15551
435 x 291 - 27k
Image may be scaled down and subject to copyright.
www.seafoodfromnorway.com/page?id=100&key=14374
Fishlovers » News »
Norwegian fisheries
24 March 2006
In 2004, we served the world 10 billion meals of Norwegian Seafood. Every day 27 million meals with Norwegian Seafood are eaten all over the world.

Photographer: Kjell Ove Storvik

Norway is the world's third largest exporter of seafood. Norwegian Seafood has been the most stable and profitable commodity throughout the ages. The products that are harvest from the sea grow up under the best natural conditions. Here at home, throughout centuries, people have acquired the experience, competence and culture necessary to catch, raise, handle and pack fish for the world's markets.
In Norway, there are over 17,000 fishermen. In 2004, approximately 1.5 million tonnes of seafood were landed at a value of 15.6 BNOK. Cod from the Barents Sea, also called Norwegian Arctic Cod, is the most important economical fish species for Norway. Other important species are herring, mackerel, saithe, prawns and blue whiting.
Norway has some of the richest fishing areas in the world, and 90 percent of all fish and seafood are exported. Norway exports fish to about 150 countries in the world. In many countries, Norway has created unique food traditions like clipfish in Portugal and Brazil, mackerel in Japan and herring in Russia. Norwegian clipfish has a preference rate of 65 percent in Portugal, and 30 percent of the Poles eat herring once a week, and it is usually Norwegian
.
See full-size image.


lh3.google.com/.../Gare+Loch+Greenfield+003.jpg
576 x 432 - 84k

4 of 9
Police put protective gear on a protester before cutting her free during the last day of a year-long protest against Trident nuclear submarines at the Faslane Naval Base in Scotland.

"Yikes, I don't think there is a line in my expense reports for this one…"
A Trident Class Nuclear Submarine dry-docked at Puget Sound Naval Shipyard
Sunday, June 1, 2008
www.geocities.com/sudhir000in/stamps.htm
World renowned nuclear and space scientist of India Dr. Vikram Ambalal Sarabhai was the first Jain dignitary honoured by the Government of India by issuing a stamp on his first death anniversary on 30th December 1972. This 20 paisa stamp was issued showing him with his ROHINI rocket and a dove. He was the father of India's space programme.
Constitutional status of Jainism in India
In 2005 the Supreme Court of India in a judgment stated that Sikhs, Jains and Buddhists are sub-sects or 'special faiths' of Hinduism, and are governed under the ambit of Hindu laws.[41] In the same year however, it declined to issue a writ of Mandamus towards granting Jains the status of a religious minority throughout India. The Court noted that Jains have been declared a minority in 5 states already, and left it to the rest of the States to decide on the minority status of Jain religion.[5]
In 2006 the Supreme Court in a judgment pertaining to a state, opined that "Jain Religion is indisputably not a part of the Hindu Religion". (para 25, Committee of Management Kanya Junior High School Bal Vidya Mandir, Etah, U.P. v. Sachiv, U.P. Basic Shiksha Parishad, Allahabad, U.P. and Ors., Per Dalveer Bhandari J., Civil Appeal No. 9595 of 2003, decided On: 21.08.2006, Supreme Court of India)
[2]
PRO-VEG GROUPS TARGET BIRLA STORES IN MUMBAI
Advocates of uncompromising vegetarianism in the Mumbai city have found a new cause. Prominent Marwari and Jain groups have denounced the Aditya Birla Group's decision to sell non-veg food at its new retail outlets and accused it of putting profit over the community's traditions. This marks the start of a new conflict between pro-veg campaigners and sellers and consumers of non-veg food. Pro-veg groups have already been accused of blocking out nonveg-eaters from housing societies in south Mumbai. The protestors, including the influential Marwari Ekta Parishad that represents nearly 2,000 businessmen from the community, the Maharashtra Gopalan Samiti and Vaishnav Group have said that the Birlas, who have iconic status among Marwaris and Jains, are violating the basic tenets of their culture by selling "unacceptable stuff " and should immediately stop supporting the killing of animals for food.
Representatives of the groups say they have sought a meeting with Rajashree Birla, matriarch of the family, to register their protest and if the retail chain still continues to sell non-veg food, hold demonstrations outside the outlets. A source from the Aditya Birla Group, however, dismissed the confrontationist posture of the organisations as a "publicity stunt." The Aditya Birla Group's entry into India's growing retail industry began with the opening of its first 'More' supermarket in Viman Nagar in Pune early this month.
IT IS BELEVED IN THE ANCIENT SHASTRAS OF HINDUISM THAT A HUMAN BEING IS BORN AFTER transgressing 24 THOUSAND YONIS OR BIRTHS.


A HEINOUS SINNER WHO IS PARTY TO KILLING OR KILLS HIS DEVOUT,TRUSTING ,HOMEMAKER ,KARVACHOWTH WIFE FOR SEX ,MONEY,POWER AND SIN- AS IS DONE BY ARYA SAMAJ ACT OF 1937

AND TEMPORARY MUSLIMS MAKING THEIR YOUNG 40 YEAR OLD WIVES THEIR MOTHERS ,
KILLING THEM,

MAKING THE NEW YOUNG WIFE A BUDDAPE KI WALKING STICK AND SON,

CONVERTING BACK TO HINDUISM BY DRINKING COW URINE FOR SUPPOSEDLY SAVING THEIR SOULS

-SUCH SINNERS ARE NOT BORN AGAIN FOR YEARS HANGING UPSIDE DOWN ON A BARGAD TREE ,

OR ON TREES NEAR CREMATORIUMS ,

AND BURN SYMBOLICALLY IN THE FIRES OF HELL.

THEY ARE ALSO USED BY TANTRIKS WHO USE SEX AS A MEDIUM AND TANTRA FOR EVIL.
http://www.mystae.com/restricted/streams/scripts/tantra.html
Tantric Sexual Rituals

THEN ACCORDING TO THE EVILNESS OF THEIR SINS THEY ARE REBORN AGAIN

FIRST AS GERMS ,

THEN INSECTS ,

THEN BIRDS ,
See full-size image.
forums.egullet.org/uploads/1132460578/gallery...

HENS FOWLS,GOATS FISH AND SO ON.
See full-size image.
gourmethunter.files.wordpress.com/2007/08/ind...
500 x 429 - 171k
http://gourmethunter.wordpress.com/2007/08/27/
indian-style-okra-chicken-dish/
written by bindiya on December 19, 2007
http://inlovewithfood.blogspot.com/2007_
Kashmiri Dhaniwal Korma
cinnamonlime-eats.blogspot.com/
Saturday, November 04, 2006
DUM MAHI
Its Saturday so I've had a bit more time to cook. Decided to cook Kashmiri food tonight. The stuff in the cooker is Dum Mahi, a slow cooked fish, Kashmiri style (the colour is from the Kashmiri chillies). Dum implies that the food has been slow cooked in a closed vessel (often in an oven) simmering in its own juices for a very long time (there were curries made in antiquity that were simmered like that over NINE days!
IT IS BELIEVED BY THE SHAIVAITES OR SHIVA GOD WORSHIPPERS/KASHMIRI PANDITS

WHO PAY PRIME IMPORTANCE TO MOKSHA


AS ALSO SWETAMBER JAINS ,

THAT EATING NON-VEGETARIAN FOOD ,ENDS THE BIRTH CYCLE OF A LOWER ANIMAL TO BE BORN AGAIN AS A HIGHER ANIMAL.


SO A PLATE OF CHICKEN GIVES FREEDOM TO THE FOWL FROM THAT BIRTH.


IN OTHER WORDS YOU ARE DOING GOOD DEEDS BY EATING NON-VEG FOOD.

HOWEVER IT IS ALSO A SIN TO KILL THE HIGHER ANIMALS LIKE WILD ANIMALS,LIONS ,TIGERS,GIRAFFES,CHIMPANZEES ,BEARS,GORILLAS ,ECT WHO MAINTAIN THE ECO SYSTEM OF THIS EARTH.

IT IS ALSO A SIN TO KILL UTILITY ANIMALS WHO PROVIDE SERVICE TO
MANKIND LIKE THE SHIP OF THE
DESERT-
CAMELS,COWS,BUFFALOES,OXEN,ELEPHANTS ,HORSES ECT,


HOWEVER AS THE HUMAN BIRTH IS GOT AFTER MANY BIRTHS,KILLING A SIMPLE HUMAN BEING IS THE MOST HEINOUS TRUE SIN ,

AS HIS /HER LIFE IS FRUITFUL AND VALUABLE TO THIS EARTH.


THE BIRTH WHICH IS SO VALUABLE SHOULD NOT BE DIVIDED ON THE BASIS OF CASTE , OR COLOR ,

FOR IT IS A BOON TO BE ALIVE.

THAT IS WHY MOKSHA THEORY IN HINDUISM :-

THAT ONE SHOULD NOT COME BACK IN THIS WORLD AFTER HUMAN BIRTH -SUCH SHOULD BE ONES GOOD DEEDS.

www.h-merchant.com/hinduism/karma.htm
shrimuktipath.org/moksha.asp
What is Moksha?

Moksha is liberation from the cycle of death and rebirth and all the sufferings from the limitations of worldly existence. One soul gets moksha only after Asthi Visarjan & Shradh. Achieving Moksha is the ultimate aim of every Hindu. The soul is not relieved from the cycle of rebirth and death until one's cremated remains (cremains) are immersed by the learned Acharyas, who have complete knowledge of Vedas in Holy Ganges with full rituals, as described in Garur Puran and Smriti Shastra.

Importance of Moksha

Due to lack of proper knowledge, guidance and expert assistance, attainment of Moksha through Asthi Visarjan Shradh at Holy Ganges is a dream for Hindus residing out of India.
According to holy epics, the cremated remains (cremains) which are collected during the cremation of deceased should be immersed in holy Ganges. By doing this, as long as the cremains remain in Holy water, the deceased soul is honoured in the heaven. Then after, the person from the heaven does not get rebirth in this grievous transient world and he gets salvation.

How to attain Moksha?

According to Garur Puran and Smriti Shastra, Asthi Visarjan has been described as a highly important ritual. Asthi Visarjan not only makes one's belief and trust stronger, but also establishes our forefathers in Satya Lok or Vaikunth (heaven). According to Vedic Scripts, after a person leaves his body, his son or inheritor should, with full respect, honour and reverence, perform Asthi Visarjan by expert and learned Acharyas.
The prime responsibility of a person performing rituals of mother or father or grandfather or friend or relative is to get them performed in the prescribed manner as stated in Vedic Scripts, failing which, the soul shall not get the ultimate peace and the soul keeps strolling in the universe.
hubpages.com/hub/Can_Indus_Script_be_Deciphered
ON THIS POINT ARYA SAMAJ KILLERS BECOMES THE MOST DEGRADED AND FILTHIEST SECT OF THIS EARTH.



www.dharmakshetra.com/.../puranas/garuda.html
THE GARUDA PURANA
http://prayerimproveslife.com/Prayer_Improves_Life_Positive_
Thoughts_Forgiveness_DAILY-GENERAL-PRAYER.shtml
IT IS BELIEVED THAT MUSIC AND DANCE PLEASE LORD SHIVA WHO THEN MAINTAINS PEACE AND HARMONY ON THIS EARTH.


http://en.wikipedia.org/wiki/Mallika_Sarabhai
Mallika Sarabhai


Mallika Sarabhai, one of the leading exponents of Bharatnatyam and Kuchipudi, is the daughter of the dancing legend Mrinalini Sarabhai and the renowned scientist Vikram Sarabhai. A multifaceted personality, Mallika is not only a dancer, but also a noted film-maker, internationally known choreographer, an actress, a TV anchor, an editor, a publisher and so on. Throughout her different careers dancing has remained her first love.


http://en.wikipedia.org/wiki/Jainism

Jainism
Part of a
series
on
Jainism
---
Main Jain prayer
Navakar Mantra
Customs and practices
Jain monks and nuns practice strict asceticism and strive to make their current birth their last, thus ending their cycle of transmigration. The laity, who pursue less rigorous practices, strive to attain rational perception and to do as much good as possible and get closer to the goal of attaining freedom from the cycle of transmigration. Following strict ethics, the laity usually choose professions that revere and protect life and totally avoid violent livelihoods.
Doctrines
Jains believe that every human is responsible for his/her actions and all living beings have an eternal soul, jīva. Jains believe all souls are equal because they all possess the potential of being liberated and attaining Moksha. Tirthankaras are role models only because they have attained Moksha. Jains insist that we live, think and act respectfully and honor the spiritual nature of all life. Jains view God as the unchanging traits of the pure soul of each living being, described as Infinite Knowledge, Perception, Consciousness, and Happiness (Ananta Jnāna, Ananta Darshana, Ananta Cāritra, and Ananta Sukha). Jains do not believe in an omnipotent supreme being, creator or manager (kartā), but rather in an eternal universe governed by natural laws.
Jains hold that this temporal world holds much misery and sorrow and hence to attain lasting bliss one must transcend the cycle of transmigration. Otherwise, one will remain eternally caught up in the never-ending cycle of transmigration. The only way to break out of this cycle is to practice detachment through rational perception, rational knowledge and rational conduct.
Jain scriptures were written over a long period of time, but the most cited is the Tattvartha Sutra, or Book of Reality written by the monk-scholar, Umasvati (aka Umāsvāmi) almost 1800 years ago. The primary figures are Tirthankaras. The two main sects called Digambar and Svetambar, both believe in Ahinsa (or ahinsā), asceticism, karma, sanskār, and jiva.
Digambara and Svetambara traditions
It is generally believed that the Jain sangha divided into two major sects, Digambar and Svetambar, about 200 years after Mahāvīra's nirvana. Some historians believe there was no clear division until the 5th century. The best available information indicates that the chief Jain monk, Acharya Bhadrabahu, foresaw famine and led about 12,000 Digambar followers to southern India. Twelve years later they returned to find the Shvetambar sect, and in 453 the Valabhi council edited and compiled traditional Shwetambar scriptures. The differences between the two sects are minor and relatively obscure.
In Sanskrit, ambar refers to a covering generally, or a garment in particular. Dig, an older form of disha, refers to the cardinal directions. Digambar therefore means "covered by the four directions", or "sky-clad". Svet means white and Svetambars wear white garments.
Digambar Jain monks do not wear clothes because they believe clothes are like other possessions, increase dependency and desire for material things, and desire for anything ultimately leads to sorrow. Svetambar Jain monks, on the other hand, wear white, seamless clothes for practical reasons, and believe there is nothing in Jain scripture that condemns wearing clothes. Sadhvis (nuns) of both sects wear white. These differing views arise from different interpretations of the same holy books. There are minor differences in each sect's literature.
Digambars believe that women cannot attain moksha in the same birth, while Svetambars believe that women may attain liberation and that Mallinath, a Tirthankar, was a woman. The difference is because Digambar ascetism requires nudity. As nudity is impractical for women, it follows that without it they cannot attain moksha.[17]
Digambars believe that Mahavir was not married, whereas Shvetambars believe the princely Mahavir was married and had a daughter. The two sects also differ on the origin of Mata Trishala, Mahavira's mother.
Sthanakavasis and Digambars believe that only the first five lines are formally part of the Namokara Mantra (the main Jain prayer), whereas Svetambaras believe all nine form the mantra. Other differences are minor and not based on major points of doctrine.