MISUSE OF THE SACRED INSTITUTION OF MARRIAGE ,FOR SEX ,CRIME ,LOOTING OF PUBLIC MONEY IN BANKS AND PARLIAMENT AND MURDERS OF INNOCENT WOMEN.
WHEN A MARRIAGE HAS BEEN SOLEMNIZED BY VEDIC RIGHTS AND THE GUTTER SEX ISLAMIC CONVERTED MAN BRINGS IN ANOTHER WIFE :-
1.BY MARRIAGE IN ARYA SAMAJ HALL BY THE GUTTER BRITISH 1937 ARYA SAMAJ ACT.
2.BY MARRIAGE BY MULLAHS AS IS DONE IN DHARMENDRA /HEMA MALINI CASE WHEREIN NAMES WERE CHANGED.
3.BY THE REGISTRATION OF MARRIAGES ACT OF 1954.
SAYING THAT
ALL THESE METHODS
OF SECOND MARRIAGE IS BY CONVERSION TO ISLAM ;
THE SECOND MARRIAGE IS ILLEGAL AS ACCORDING TO ISLAM
FOR A SECOND MARRIAGE TO BE LEGAL BY ISLAM THE FIRST MARRIAGE SHOULD ALSO BE BY ISLAM.
WHEN A VEDIC FIRST MARRIAGE IS BEING CONDUCTED HOW CAN THE SECOND MARRIAGE BE OF ISLAM ?IS ISLAM SUCH A CHEAP AND IMPURE RELIGION?
IT IS INCLUDING ALL OTHER RELIGIONS IN ITS ANSARI FOLDS?
FOR THE SECOND MARRIAGE TO BE CATEGORIZED A MUSLIM MARRIAGE THE FIRST MARRIAGE SHOULD ALSO BE MUSLIM.
1.EVEN IF THE MAN CONVERTS TO MUSLIM RELIGION THE METHOD BY WHICH THE FIRST MARRIAGE WAS CONDUCTED WAS NOT ISLAMIC.
2.HAS THE WOMAN IN THE FIRST MARRIAGE CONSENTED TO ISLAM?RELIGION CANNOT BE FORCED.IT IS ILLEGAL BY LAW AND ALL MORAL ETHICS.
COMING BACK TO MY LIFE KALARA WAS WORKING IN CANARA BANK AFTER WHICH HE JOINED STATE BANK OF INDIA.
HIS SISTER SANTOSH GANDHI WORKING IN BANK OF INDIA SYMBOLICALLY PLANS TO MAKE STATE BANK OF INDIA SMALL AS THE BANK OF INDIA CUTTING OFF THE STATE ;SEEING THE FILTHY SYMBOLIC POWER THAT SHE REPRESENTS.TO FURTHER CONSOLIDATE THIS SYMBOLISM .
SHE HAS NAMED HER DAUGHTER KANU AFTER KANU PRIYA AGGRAWAL -THE FIRST TEST TUBE BABY.
IF ANY ONE VISITS KINGWAY CAMP GANDHI ASHRAM HARIJAN SEWA KENDRA IN DELHI ,THEY WILL SEE A BRANCH OF CANARA BANK AND A POST OFFICE INSIDE ITS PREMISES SYMBOLIZING THIS ILLEGAL TEST TUBE TRADE ,WHEREIN IN HINDU RELIGION IT IS SAID THAT SUCH FILTHY SINNERS ARE BORN AS DALITS. OR HARIJANS.IN FRONT OF THIS KENDRA SITS A WOMAN SELLING POTS WHICH ARE USED FOR THE HINDU LAST RITES OF INNOCENT UNSUSPECTING FIRST WIVES AND THERE IS A BOARD OF KALRA JUST BESIDE THE POTS.
See full-size image.
www.crimelibrary.com/.../marcello/2a.jpg
150 x 194 - 5k
Image may be scaled down and subject to copyright.
IF ANY ONE WHO HAS BEEN READING THIS BLOG VISITS AKSHARDHAAM TEMPLE THEY WILL SEE ALL THE SYMBOLISM OF TEST TUBE BABIES THERE WHICH ARE IMPLANTED BY TUBES EITHER
1.INTO UNSUSPECTING DRUGGED 13 YEAR OLD INNOCENT GIRLS WHO ARE THEN FORCED INTO GUTTER MARRIAGES WITH OLD MEN LATER ON AFTER DUST BINNING THEIR LIFE
2.OR INTO UNSUSPECTING DRUGGED FIRST WIFE WHO WILL LATER ON BE TOLD THAT HER HUSBAND HAS MARRIED ANOTHER WOMAN BY ISLAM AND EVEN HER CHILDREN ARE EGGED OR GENETICALLY BELONG TO THE SECOND WIFE WHOSE EGG WAS TAKEN WHEN SHE FIRST STARTED MENSTRUATING AND JOINED WITH A CHEAT TO BE IMPLANTED IN HER WOMB BY A SIMPLE INJECTING TUBE !ALL HER YEARS OF TOIL AS A WIFE AND A MOTHER IS GUTTERED FOR CHEATING AND SEX BY A CRIMINAL MAN WHO TREATS A WOMAN LIKE AN ANIMAL TO TAKE REVENGE OF THE FACT THAT ABRAHAM DROVE OUT HAGAR THE HORRIBLE MAID BECAUSE SHE WAS USED ONLY FOR INFERTILITY OF SARAH.
SARAH COULD NOT BEGET A CHILD SO HAGAR THE SLAVE GIRL WAS COMMISSIONED TO BEGET AN HEIR FOR HIM.LATER WHEN SARAH GOT HER OWN CHILD ,ABRAHAM DROVE OUT HAGAR INTO THE DESERT WITH HER ILLEGAL CHILD.
TO RIGHT THIS ANCIENT WRONG ,CHEAT CONVERTED ISLAMIC MEN ARE MAKING THEIR NORMAL PURE FIRST WIFE BARREN BY IMPLANTING A SECOND WIFE EMBRYO INTO HER ;MAKING THE SECOND WIFE A MAN ,ONLY DONATING EGGS AND JUST SEXING EACH OTHER.
THIS IS AGAINST NATURE AND ALL ETHICAL PRINCIPALS AND ISLAM IS THE MOST FILTHIEST RELIGION IN THIS WORLD.THOSE WOMEN WHO DO NOT ACCEPT ISLAM AFTER THIS FILTHY ACT OF CHEATING A WOMAN EVEN OF HER CHILDREN ARE HANDED DOWN TO ARYA SAMAJ TO BE KILLED NATURALLY BY DOCTORS FOR ORGAN TRADE.
THE AKSHARDHAM TEMPLE STARTS WITH A DISPLAY OF CANS AND THEN A PERSON WHO HAS READ THIS BLOG AND SEEN SYMBOLISM BEING MISUSED WILL UNDERSTAND THAT THE CONSTRUCTION OF THE DOMES IS ISLAMIC ,THERE ARE TWO ROWS OF RED STRUCTURES BUILT ON ISLAMIC LINES,THE DATES ARE ALL SYMBOLIC TO THE KANUPRIYA AGGARWAL TEST TUBE BABY SYNDROME AND THERE IS ALSO A PREMAVATI AAHAR GRAH REPALCING THE SEETA MATA KI RASOI OF AYODHYA ,THE ENTIRE SWAMINARAYAN SECT BEING OF BANIAS AND JAINS WHO USE THE ISLAMIC ORGANIZED CRIME TO KILL FOR THEM AND ARE PARTY TO FINANCING MILITANTS AND KILLERS OF KASHMIR;ORGAN TRADE ,KILLING OF INNOCENT POLICE AND ARMY PERSONNEL,FIRST WIVES BY ARYA SAMAJ AND THE ENTIRE BAAP TEST TUBE BABY CULTURE TO CONVERT HINDU MEN TO ISLAM ,USE THEM FOR CHEATING AND MURDERS TO BUILD THEIR EMPIRES AS ALSO FINISH HINDUISM BY SUBSTITUTING A PREMAVATI AAHAR FOR SEETA MATA KI RASOI EVEN IN REAL DAY TO DAY LIFE.THE CONSTRUCTION OF THE TEMPLE IS AN EYESORE AND EERIE.
THESE BANIAS AND JAINS ARE DUST BINNING THE LIVES OF COUNTLESS WOMEN FOR THEIR WEALTH SPOILING THE ENTIRE HINDU CULTURE AND INCREASING ISLAM.
IMAGINE A WOMAN WHO IS TOLD AT 40 THAT HER HUSBAND HAS TAKEN ANOTHER WIFE AND EVEN HER CHILDREN ARE HERS.
WITH THIS PSYCHOLOGICAL TERRORISM THEY CATEGORIZE SUCH WOMEN INTO MAD OR IN THE ASYLUM OR MAKE THEM COMMIT SUICIDE SAYING THAT GOD DID NOT SAVE YOU AND DO NOT PRAY TO HINDU GODS FOR YOUR SWAMI A GUTTER PIG CRIMINAL
IS YOUR NARAYAN.
THIS IS WHAT THE SWAMI NARAYAN TEMPLE IS DEFAULT ISLAMIC MARRIAGE BY HINDU FIRST MARRIAGE.
AND FOR THIS NARAYAN FOR WHOM YOU WERE FASTING ON KARWACHOWTH EVEN YOUR ORGANS ARE GOING TO BE USED AND YOU ARE GOING TO BE MADE A CAMEL ,YOUR LIFE A DESERT WHICH WILL END AT THE AGE OF 40.

Views:
201,245

www.resnet.trinity.edu/.../human-cloning.html
With the cloning of Dolly the sheep in 1997, the potential for human cloning became eerily realistic to the American public. Since then, we have come even closer to perfecting the technology necessary for human cloning, which is why it is crucial for us to think about the ethical reasoning surrounding such science right now. Even if you do not follow current events in science and legislation concerning technology, the ideas posed in such science fiction films as The Island and Multiplicity should be enough to at least momentarily intrigue you!
When we talk about the dangers of human cloning, we must acknowledge one of the most controversial political topics of today: stem cell research. Currently, U.S. embryonic stem cell research is limited to cell lines generated before 2001, as legislation was put in place by President Bush which prevented government funding beyond these cell lines (Hampton, 2006). Furthermore, these cell lines are "considered to be of poor quality by many researchers" (Hampton, 2006), which creates another hindrance in the advancement of this science. According to the Journal of the American Medical Association, he key controversial aspect of stem cell research in relation to human cloning is the "potential misuse of somatic cell nuclear transfer for techniques" (Hampton, 2006)--such as human cloning. Basically, if the scientific field of human cloning was fully let loose and went entirely unchecked, we could see embryos created and developed (maybe even to "human being" status) through cloning just to be used for certain organs, etc., and then disposed of.
Another bio-scholar, Dr. Robert Sparrow, covers the dangers of human cloning with regard to child birth. Specifically, he believes that the best case for human cloning is a medical procedure designed to overcome infertility (Sparrow, 2006). The following is an excerpt from Dr. Sparrow's article in the scholarly journal, Bioethics:
For cloning to play a useful role as a reproductive technology, it must allow couples to become parents who could do so no other way. However, to the extent that intention is sufficient to establish parenthood, adoption or surrogacy, which are existing alternatives to cloning, will serve equally well to allow couples to become parents.
Thus, he believes that even the best argument for human cloning--for parents who are attempting to overcome infertility--is not without potential alternatives which, in his opinion, mean that human cloning is actually an unnecessary scientific area of study.
Also, public opinion of the science has been negatively affected somewhat due to the scandal in 2005 involving a South Korean scientist who claimed to have been the first to have ever successfully clone a human (Rusnak & Chudley, 2006). As the world buzzed with intrigue and excitement, wondering what would come next, it was shortly thereafter revealed that this scientist had committed fraud, as he had not cloned a human being. While disciplinary action was carried out against him, the damage had already been done to the science of cloning in the eyes of the public, as this was very bad press coverage for the field entirely (Rusnak & Chudley, 2006).
It would not be fair for us to only give voice to those who have more dissenting opinions of this technology. Those scientists who conducted the Dolly cloning experiment, Ian Wilmut and Keith Campbell, have recently teamed up with science writer Colin Tudge to publish the book After Dolly. According to a review of this book from the Lancet, the scientists themselves are adamantly opposed to the idea of human cloning and, furthermore, believe that discussion of this science in the public forum is absolutely essential. Specifically, the reviewer states that, "The purposes of After Dolly now become clearer. They are to cement in the reader's mind the distinction between reproductive cloning of human beings (wrong, dangerous, and technically perhaps impossible) and the potential benefits of research on therapeutic cloning" (Rose, 2006). This is a very important distinction indeed, as there is thick ethical line between reproductive human cloning and therapeutic cloning--also known as stem-cell cloning. We will further discuss this technology under the "Gene Therapy" tab.
Views:
13,498
Views:
2,891
Views:
11,238

Jagjivan Ram
(
Devanāgarī
:
जगजीवन राम
)
(
5 April
1908
-
6 July
1986
)
, known popularly as
Babuji
was a
freedom fighter
and a social reformer hailing from the backward classes of
Bihar
in
India
. He served as a minister in the
Indian parliament
with various portfolios for more than forty years, and also served as the
Deputy Prime Minister of India
.
In Indira Gandhi's government he worked as minister for Labour, employment, and rehabilitation (1966–67), minister for Food and agriculture (1967–70). When the Congress Party split in 1969, Jagjivan Ram joined the camp led by Indira Gandhi, and became the president of that faction of Congress. He worked as the minister of Defence (1970-74) making him the virtual No. 2 in the cabinet, minister for Agriculture and irrigation (1974-77). It was during his tenure as the minister of Defence that the Indo-Pakistani War of 1971 was fought, and Bangladesh achieved independence. While loyal to Prime Minister Indira Gandhi for most of the Indian Emergency, in 1977 he along with five other politicians resigned from the Cabinet and formed to form the Congress for Democracy party, within the Janata coalition.
A few days before the elections, on a Sunday, Jagjivan Ram addressed an Opposition rally at the famous Ram Lila Grounds in Delhi. The national broadcaster Doordarshan allegedly attempted to stop crowds from participating in the demonstration by telecasting the blockbuster movie Bobby. The rally still drew large crowds, and a newspaper headline the next day ran "Babu beats Bobby" . He was the Deputy Prime Minister of India when Morarji Desai was the Prime Minister, from 1977 to 1979. However, he was once again given the defence portfolio. Disillusioned with the Janata party he formed his own party, the Congress (J). He remained a member of Parliament till his death in 1986, after over forty years as a parliamentarian. His uninterrupted representation in the Parliament from 1936 to 1986 was a world record, until Tony Benn overtook him by serving 51 years (1950-2001) in the British parliament. .
Titles (Exact Matches) (Displaying 3 Results)
Kangan (1939)
The love story between between the beautiful village belle Radha (Chitnis) and Kamal (Kumar),
the son of the village zamindar who wants to be a great poet.
The zamindar sends his son to the city where Kamal becomes a noted novelist and
playwright while Radha is persecuted by the zamindar and his henchmen Banwari.
She feigns suicide but in fact goes to join her beloved in the city (on the same train
as the now repentant father). When she eventually reaches Kamal's house, she
hears him declaring his love to a woman. Unaware that he is merely reading lines
his latest play.
Kangan (1959)
The Das family consists of widower, Barrister Mohan; his son - CID Inspector Sharad;
and married daughter, Kamla; and a school-going son, Munna. Kamla is married
to an army Captain. Sharad's marriage has been arranged with Karuna, who lives
a wealthy lifestyle with her widowed father. On the day of the marriage, Kamla
asks Karuna to retrieve some letters that she had written to her former lover,
Ramesh Bhatia. Karuna goes to retrieve them, but ends up assaulting Ramesh.
She returns just in time to get married. Both women promise to never reveal
this secret to anyone, as this may break-up Kamla's marriage. After the marriage,
the Police are notified that Ramesh has been killed and their investigations shows
that the killer is a woman whose name starts with 'K'. Sharad is assigned this case,
but is unable to proceed, and as a result his superior, SP Verma, closes the file.
Then a Hotel Manager comes forth and identifies the killer as Karuna. Sharad a
nd Verma accumulate enough evidence, then go to arrest Karuna, but find she is
absconding, but she later returns home, and is arrested and held in a cell. She
refuses to divulge any information as to why she killed Ramesh. Now the entire
family's dirty laundry will be aired before an open courtroom where Mohan will
prepare to defend his daughter-in-law, while Sharad will appear as a witness against
his very own wife.
1978
http://en.wikipedia.org/wiki/IVF#Method
Kangan
(1971)
http://www.dishant.com/album/Evergreen_Hits_Of_Mahendra_Kapoor_-_2.html
Jhuke Jo Tere Naina
Lakshmipati, a rich Zamindar, a very good man and philanthropist, became an alcoholic

after a personal tragedy. His dear wife and daughter lost their lives as there were not

enough medical facilities in his village. Now his life's mission was to provide the best in

medical help. The hospital building was under construction and at his expenses a young

bright son of his friend was studying medicine to take charge of hospital on graduation.

Young doctor Sunil loves beautiful, but poor Shanta. He presents her with a pair of Kangan,

the symbol of his deep love and permanent bondage. Sunil's mother Parvati frowns on this

match as she wants her son to marry Shobha, rich cousin of Shanta. But Shobha is in

love with Bankay, son of Hanuman, an employee of Lakshmipati. Without the knowledge of

Sunil, a conspiracy is hatched. As a result, Shanta is made to go through marriage ceremony

with Lakshmipati who was too drunk at the time to know what was happening. When he

wakes up and knows the sordid details, he treats Shanta as a daughter, instead of wife.

When doctor Sunil comes to village to take charge of the hospital, he finds Shanta married

to Lakshmipati. In frustration he resigns from hospital and wants to go away..away..
Shanta comes to know and she makes personal request to Sunil to stay and take up

his duty as doctor. Lakshmipati comes to know about true love between Sunil and Shanta.

The anguish of this young love, separated by fate, brings a new resolve in him.

Sunil also comes to know that Lakshmipati and Shanta do not loved as husband and wife.

Lakshmipati suggests that Shanta should remarry the man of her first choice.

But Shanta is shocked at the suggestion. She cries that being a married Indian woman,

she can never even think of such a possibility. On the other side Sunil is being compelled

to marry Shobha. Both Sunil's mother and Shobha's mother want it. But Shobha

loves Bankey… WHAT HAPPENS THEREAFTER CAN BE WITNESSED ON

THE SILVER SCREEN…
http://en.wikipedia.org/wiki/IVF#Method
Saturday, June 14, 2008
History
In the basis of the findings of Min Chueh Chang's application of in vitro fertilization to animals,

the technique was developed for humans in the United Kingdom by Patrick Steptoe

and Robert Edwards. The first "test-tube baby", Louise Brown, was born in Oldham,

Greater Manchester, England, as a result on July 25, 1978 amid intense controversy

over the safety and morality of the procedure.[2]

The Right Honourable
Gordon Brown
MP
At an International Monetary Fund meeting in 2004.
Dr.

Subhash Mukhopadhyay





Date of Birth

:

-

Date of Death

:

Jun 19, 1981

Place of Birth

:

Kolkata
Subhash Mukhopadhyay became the first physician in India, and the second in the

world after Steptoe and Edwards, to perform the procedure and produce the test tube

baby "Durga" (alias Kanupriya Agarwal) on October 3, 1978. Facing social

, bureaucratic negligence, reprimand and insult instead of recognition from the

Marxist West Bengal government and refusal of the Government of India to allow

him to attend international conferences, Mukhopadhyay committed suicide in his

Calcutta residence in 1981.

Rajiv Gandhi, 1985.

http://en.wikipedia.org/wiki/Rajiv_Gandhi
Rajiv Gandhi राजीव गांधी (IPA: [raːdʒiːv gaːnd̪ʰiː]), born in Bombay, (August 20, 1944 –
May 21, 1991), the elder son of Indira and Feroze Gandhi, was the 7th Prime Minister
of India (and the 3rd from the Nehru-Gandhi family) from his mother's death on
31 October 1984 until his resignation on December 2, 1989 following a general election
defeat. He was the youngest Prime Minister of India (at the age of 40).

Prime Minister
Rajiv was in West Bengal when Indira Gandhi was assassinated on October 31, 1984.

Top Congress leaders, as well as President Zail Singh pressed Rajiv to become India's
Prime Minister, within hours of his mother's assassination by two of her Sikh bodyguards.
Commenting on the anti-Sikh riots in the national capital Delhi,

Rajiv Gandhi said, "' When a giant tree falls, the earth below shakes" [2];

a statement for which he was widely criticised. Many Congress politicians

were accused of orchestrating the violence [3]. Soon after assuming office,

Rajiv asked President Zail Singh to dissolve Parliament and hold fresh

elections, as the Lok Sabha completed its five year term. Rajiv Gandhi also

officially became the President of the Congress party.
V. P. Singh's image as an exposer of government corruption made him very popular
with the public ,
and opposition parties united under his name to form the
Janata Dal
coalition.
In the 1989 elections, the Congress suffered a major setback. With the support
of Indian communists and the
Bharatiya Janata Party
, V. P. Singh and his Janata
Dal formed a government. Rajiv Gandhi became the Leader of the Opposition,
while remaining Congress president. While some believe that Rajiv and Congress
leaders influenced the collapse of V. P. Singh's government in October 1990 by
promising support to
Chandra Shekhar
,
a high-ranking leader in
the Janata Dal,
sufficient internal contradictions existed,
within the ruling coalition, especially
over the controversial reservation issue,
to cause a fall of government.
Rajiv's
offered outside support briefly to Chandra Sekhar, who became Prime Minister.
But this support was withdrawn in 1991 and fresh elections were announced.
click the image for a readable version
The passageway is circumambulatory and built on two levels, owing to the colossal
height of the 4-m (13-ft) linga.
You can see that for yourself.
TERRORIST AND DISRUPTIVE ACTIVITIES (PREVENTION) ACT, 1987
The stone mosaic that stands at the exact location where Rajiv Gandhi was

Rajiv Gandhi's last public meeting was at Sriperumbudur on May 21, 1991,

in a village approximately 30-miles from Madras, Tamil Nadu, where he was assassinated

while campaigning for the Sriperumbudur Lok Sabha Congress candidate.[8]

The assassination was carried out by the LTTE suicide bomber

Thenmuli Rajaratnam also known as Gayatri and Dhanu.
At 10:10 p.m., the assassin Dhanu approached him in a public meeting and greeted

the former Prime Minister. She then bent down to touch his feet (an expression of

respect among Hindus) and detonated a belt laden with 700 grams of RDX explosive
tucked below her dress.[9] The former Prime Minister along with many others were
killed in the explosion that followed. The assassination was caught on film through

the lens of a local photographer, whose camera and film were found at the site.

The cameraman himself also died in the blast but the camera remained intact.
The Rajiv Gandhi Memorial was built at the site recently and is one of the major tourist

attractions to the small industrial town.
As per the Supreme Court judgement,

by Judge Thomas, the killing was carried out due to personal

animosity of the Liberation Tigers of Tamil Eelam (LTTE) chief Prabhakaran

towards Mr Rajiv Gandhi arising out of his sending the

Indian Peace Keeping Force (IPKF) to Sri Lanka and the alleged IPKF

atrocities against Srilankan Tamils. The judgement further cites the death of

Thileepan in a hunger strike and the suicide by

12 LTTE cadres in a vessel in Oct 1987.
In the Jain Commission report, various people and agencies are named as

suspected of having been involved in the murder of Rajiv Gandhi. Among

them, the cleric Chandraswami was suspected of involvement, including
financing the assassination.[10][11] [12] The interim report of the Jain
Commission created a storm when it accused Karunanidhi of a role in the
assassination, leading to Congress withdrawing its support for the I. K. Gujral

government and fresh elections in 1998. LTTE spokesman Anton Balasingham

told the Indian television channel NDTV that the killing was a

"great tragedy, a monumental historical tragedy which we deeply regret."

[13][14] A memorial christened Veer Bhumi was constructed at his cremation spot.
Ramnath Goenka

Ramnath Goenka
( रामनाथ गोयंका )(
April 3
,
1904
–
October 5
,
1991
) was a freedom fighter and newspaper baron of India. He launched
The Indian Express
, a
broadsheet
daily, India's first national newspaper published from multiple locations.
Early life
Ramnath Goenka (April 3, 1904 – October 5, 1991) was born in Darbhanga district of Bihar. He completed his primary education in Varanasi. At the age of 15, he came to Chennai to learn the ropes of the business by venturing into the trade of yarn and jute. He was married to Moongibai.
In 1932, he took over the loss-making Madras edition of The Free Press Journal and drove the delivery van himself to dispatch the papers. He founded the Indian Express in 1936, and in 1941, he was elected President of the National Newspaper Editors' Conference. Following this, both the Indian Express and Ramnath Goenka openly challenged the British Raj.
In 1948, Daily Tej partnered with Ram Nath Goenka to publish Indian News Chronicle, an English daily, from New Delhi. After the death of Lala Deshbandhu Gupta, Ramnath Goenka converted it as The Indian Express. Upon independence he was nominated as a member to the Constituent Assembly of India.
Ramnath Goenka is considered the first and a true press baron of India. He would always be remembered for his role during the "Emergency" in India and his crusade against Indira Gandhi. R. Ramakrishnan who used to work with him was also hailed by Jayaprakash Narayan for organising meetings against the emergency. His bitter fight against the business tycoon Dhirubhai Ambani is still remembered. His critics believe that his passion for politics was the fire that led the newspapers from Indian Express Group on a blazing trail.
Goenka had a son B. D. Goenka who was slated to take over the Indian Express. He, however, died as a result of a tragic cardiac arrest. Ramnath got along well with Saroj Goenka, his son's widow. HIs son B. D. and Saroj had three children, Arati Agarwal, Ritu Goenka and Kavita Singhania. However powers at the Indian Express Group decided that they were bereft of a direct heir, because the three children of B.D. Goenka were female. Goenka was averse to making his very capable daughter-in-law Saroj or his grand daughters as heirs to his media empire.
Ramnath had other children. He had a daughter named Krishna who was married to A. M. Khaithan of the Calcutta Khaithan's; who are the worlds largest tea producers and battery manufacturer's through the ownership of Williamson Magor. [3]. Vivek Khaitan(who eventually was made heir after a change of name to Vivek Goenka (now Viveck Goenka). Another of Ramnath's daughter married in to the Sonthailia family in Chennai. Her son Manoj Kumar Sonthaila runs the The New Indian Express Group based in Chennai. c
[edit]
The battle against Dhirubhai Ambani
At one point in time, Ramnath Goenka was a friend of Dhirubhai Ambani. Ramnath Goenka was also considered to be close with Nusli Wadia. On many occasions, Ramnath Goenka tried to intervene between the two warring factions and bring an end to the enmity. At one occasion, Ramnath Goenka is believed to have said "Nusli is an Englishman. He cannot handle Ambani. I am a bania. I know how to finish him"[1]
As the days passed by The Indian Express, a broadsheet daily published by him carried a series of articles against Reliance Industries and Dhirubhai in which they claimed that Dhirubhai was using unfair trade practices to maximise the profits. Ramnath Goenka did not use his staff at the Indian Express to investigate the case but assigned his close confidant, advisor and chartered accountant S. Gurumurthy for this task. Apart from S. Gurumurthy, another journalist Maneck Davar who was not on the rolls of Indian Express started contributing stories. Jamnadas Moorjani, a businessman opposed to the Ambanis was also a part of this campaign.
Both the Ambanis and Goenka were criticized and admired. People criticized Goenka for using a national newspaper to sort personal enmity. Critics believed that there were many other businessman in the country who were using more unfair and unethical practices but Goenka choose to target only Ambani and not others. When Ramnath Goenka was asked as to why he choose to fight against Dhirubhai only, he is believed to have said "Everybody rapes the system but this man wanted to make it his mistress". Critics also admired Goenka for his ability to run these articles without the help from his regular staff. Dhirubhai Ambani was getting more recognition and admiration. A section of the public started to appreciate Dhirubhai's business sense and his ability to tame the system as per his wishes.[2]
The end to the tussle came only after Dhirubhai Ambani met with a stroke. While Dhirubhai Ambani was recovering in San Diego, his sons Mukesh Ambani and Anil Ambani managed the affairs. The Indian Express had turned the guns against Reliance and was directly blaming the government for not doing enough to penalise Reliance Industries. The battle between Wadia - Goenka and Ambanis took a new direction and became a national crisis. Gurumurthy and another journalist Mulgaokar consorted with President Giani Zail Singh and ghost-wrote a hostile letter to the Prime Minister on his behalf. The Indian Express published draft of the President's letter as a scoop, not realising that Zail Singh had made changes to the letter before sending it to Rajiv Gandhi. Ambani's had won the battle at this point. Now the tussle was directly between the Prime Minister Rajiv Gandhi and Ramnath Goenka. Ambani's made a quiet exit at this point. The government then raided the Express guest house in Delhi's Sunder Nagar and found the original draft with corrections in Mulgaokar's handwriting, which led to prosecution by the government.
[edit]
Jan Sangh and BJP
Many people believe that Ramnath Goenka supporting the sister organizations of Rashtriya Swayamsevak Sangh. Goenka's best friends were Nanaji Deshmukh and the Rajmata of Gwalior,Vijayaraje Scindia both known supporters of RSS. His chief advisor was S. Gurumurthy, who is proud of his RSS links. His doctor and advisor was J. K. Jain (of Jain TV fame) who is a known Swaymsevak or Volunteer of RSS. His most famous editor was Arun Shourie, who later became a BJP minister. His lawyer was Arun Jaitley, who served V. P. Singh's government in a legal capacity but found fame as a BJP minister.
[edit]
Later years and death
Ramnath Goenka continued his fight till his last days. After a prolonged illness, on October 5, 1991 Ramnath Goenka died in Mumbai.
[edit]
Biography
Warrior of the Fourth Estate, is the official biography of Ramnath Goenka and is authored by BG Verghese. It has been published by Penguin, India. ISBN 0-67-005842-4
He was portrayed as the ageing press baron, Manikdas Gupta, by Hindi film actor, Mithun Chakraborty in the 2007 Hindi movie, Guru (2007 film).
[edit]
References
NAYA TAN-NUTAN WHO DIED AT 54. IN 1991

http://en.wikipedia.org/wiki/Nutan
Nutan
(
Marathi
: नूतन) (
June 4
,
1936
-
February 21
,
1991
)
, was a top
Bollywood
actress of her times, who appeared in several successful movies of the 50s and 60s. She holds the record of winning 5
Filmfare awards
for best actress, the highest number of awards won by an actress.
Career
Nutan was the daughter of actress Shobhna Samarth and director Kumarsen Samarth. She is related to many of the screen stars of the past fifty years (see Mukherjee-Samarth family (film)) [1].
She started her career as actress as a fourteen-year-old in Hamari Beti (1950). This film was produced by her mother, Shobhana. In 1952 she was the winner of Miss India.
Her first big break was Seema, for which she won a Filmfare Award. She followed her success with a romantic comedy, Paying Guest, in which she co-starred with Dev Anand. In 1959 she starred in two hit films, Anari (with Raj Kapoor) and Bimal Roy's Sujata (with Sunil Dutt). In the 1960s and 1970s she had many more successful films including Chhalia (1960), Bandini (1963), Saraswatichandra (1968), Devi (1970) and Main Tulsi Tere Aangan Ki (1978).
In the 1980s she played elderly mother roles in blockbuster films such as Meri Jung (1985), Naam (1986) and Karma (1986). Karma was notable for being the first time she was paired with actor Dilip Kumar. For Mere Jung she won a Filmfare Award for Best Supporting Actress. Her last film released while she was alive was Kanoon Apna Apna in 1989. She died in 1991 of cancer. Two of her films Naseebwala (1992) and Insaniyat (1994) were released after her death.
On October 11, 1959, she married naval Lieutenant-Commander Rajnish Behl. Their son, Mohnish Behl, born in 1963, later entered films as well.
Nutan died in February of 1991, of cancer, at the age of 54.
John D. Voelker
John D. Voelker (June 19, 1903–March 19, 1991), better known by his pen name Robert Traver, was an attorney, judge, and writer. He is best known as the author of the novel, Anatomy of a Murder. The best-selling novel was shortly thereafter turned into an Academy Award nominated film directed by Otto Preminger and starring Jimmy Stewart. It is regarded as one of the best trial movies of all time.
Voelker based Anatomy of a Murder on a homicide and trial that originated in Big Bay, in the Upper Peninsula of Michigan in the early morning of July 31, 1952. He was the defense attorney for a man named Coleman A. Peterson, a Lieutenant in the Army, who was charged with murdering another man named Maurice Chenoweth. The alleged motive behind this murder was that Peterson's wife had been raped by Chenoweth that evening after she accepted a ride from him. Voelker successfully defended Peterson who was found not guilty by reason of insanity.
Voelker was born in Ishpeming, Michigan and spent most of his life there. He graduated from the University of Michigan law school in 1928 and practiced law for a time in Chicago, Illinois before tiring of city life and returning to Ishpeming to enter private practice. Later, he was elected to the office of Marquette County prosecutor. In 1957, he was appointed the 74th justice of the Michigan Supreme Court, and was subsequently re-elected to that position. Voelker retired from the court in 1959 after the success of his novel Anatomy of a Murder in order to write full-time and to fish at his beloved Frenchman's Pond.
Under the pen name Robert Traver, Voelker published a number of novels and short stories with legal themes, all with the small-town Upper Peninsula setting he was most familiar with. He chose to write under a different pen name in order to assure others that his agenda as a writer and a prosecutor were completely separate. He also published three books on fishing which are regarded as classics of the genre.
Photo: Voelker, from Michigan History
movie.moldova.org/movie//1231/
Akshardham is a Hindu temple complex in Delhi, India. It was consecrated in November 2005 by Pramukh Swami Maharaj, the spiritual leader of BAPS (the organization responsible for the creation of Akshardham) and ceremoniously dedicated to the nation by the President of India, Abdul Kalam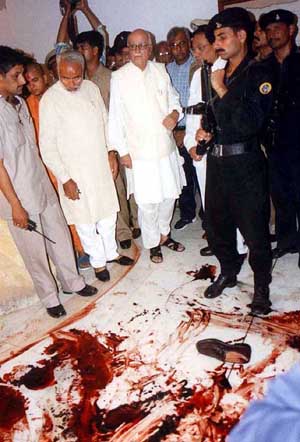 Deputy Prime Minister L. K. Advani and Gujarat Chief Minister Narendra Modi inspect the blood-stained Exhibition Hall where the militants were involved in gun battles. — PTI photo
and the Prime Minister, Manmohan Singh.[1] Sitting on the banks of the Yamuna River, adjacent to the proposed Commonwealth Games village, the complex features a large monument, crafted entirely of stone, permanent exhibitions on Bhagwan Swaminarayan and Hinduism, an IMAX, musical fountain, and large landscaped gardens.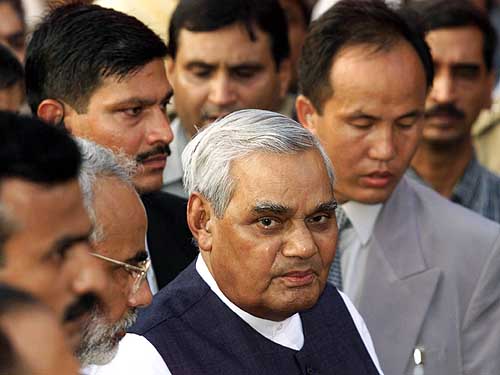 Prime Minister Atal Behari Vajpayee speaks to newsmen after a visit to the Akshardham temple. — Reuters, PTI photo