Please see the umbrella proposal girl Smita Talwar of Bhilai 3 for Vipin Dhody.She also has rat teeth of 1937 Arya Samaj.This picture will make all understand what happened to all the marriage proposals he got and what they turned out to be-a story of heinousness with a family for having voiced concerns for the poor tribals who worship umbrellas as God.
THAT THE ENTIRE INTERNET HAS NOTHING ON THE TWO SECTS OF BUDDHISM NAMELY HEENYAN AND & MAHAYAN.The Mahayan belief is to take every
one to liberation but the Heenyan believes of THEIR
own soul only.
Google
India
http://en.wikipedia.org/wiki/Rahul_Gandhi
Rahul Gandhi
NEHRU (born
19 June
1970
) is an Indian politician and member of the
Parliament of India
, representing the
Amethi
constituency.
[1]
His political party is the
Indian National Congress
.
[2]
His admission to
St Stephen's College
was controversial as he was believed to have been admitted on the basis of his abilities as a competitive
pistol
shooter, which was disputed. He left the school in
1990
, after one year of education.
[4]
Reminisces
Shri Rahul Gandhi, MP
12, Tughlak Lane
New Delhi- 110 011
Tel(o) : 23019056, 23019080 Extn. 439
Tel(R) : 23012410, 23795161
Subject:-Reminisces of a lost Nehru ,Kashmiri Brahmin Legacy.
Sir,
I just happened to peruse through your web page
"http://www.aicc.org.in/home.php"
and read the words written under your mother-Smt.Sonia Gandhi's photo as following"-
"The Congress is unique. Our uniqueness arises from several basic features of the Congress's history, its character, its ideology and the legacy of its leadership. I am convinced that the time is ripe for a massive renaissance of our political culture so that we build that society which combines compassion with competence, equity with excellence." ,
and was shell shocked as you all are not following even an iota of the legacy left behind by your ancestors
1.Kashmiri Brahmins are out on the roads ,persecuted ,looted ,raped and killed.
2.The government sector transferable jobs Hindu women in their middle age are being told that they are muslim by their bigamous cheat husbands,who will kill them by halal with domestic violence;making them their mothers inspite of being sometimes 12 years older than the first wife .(In muslim religion wife is treated as mother and that is why Hindus abuse-MADARCHOOD)
All this when they have never agreed to the second marriage,or being muslim ,or visiting any mosque.
How can you make a full Hindu family muslim or kill a mother by Arya Samaj 1937 Act;just because her cheat husband bedded some one else or sired an illegitimate offspring?
If a man marries another woman by converting to muslim religion;his first wife should agree to the marriage and being Muslim.
How can muslim mullas impose domestic violence on a Hindu first wife who never consented to same or even be psychologically terrorized that she is a kept woman ,or muslim or pros.
According to Section 494 ,a registered marriage unless accompanied by the rituals of a particular caste will not be legitimate as well as a second marriage in the life time of a living wife will attract section 494.
Also that a vedic marriage is as solemn as a Muslim or Christian marriage even if not accompanied by a registration ,which has been made mandatory presently. It does not apply to marriages which have been performed before 2004.So how can the muslim mullas claim that the second marriage which they have so sinfully performed on an already married father of grown up children is more solemn for that household and not the first vedic marriage of the first wife in a Hindu household?
Its sacrilegious and unfair and will surely lead to religious riots.
I see only one solution as far as Rahul as a human being is concerned.
Firstly you are walking on the legacy of the Congress founded by Nehruji
Secondly you have been brought up on the ideals and religion of your grandmother; Indira ji who had divorced your grandfather and her surname was kept same due to legal wrangles of official signing and infrastructure.
Thirdly I would like you to see what your grandmother did in face of severe crime and recession in the economy ,inspite of being a woman and facing threats of organized crime from the business world:-
http://www.searchindia.com/search/indian-politicians-indira-gandhi.html
On 19th July 1969, Indira Gandhi nationalized 14 major banks of the country. She promised that this would divert some of the funds from the banks to the small and middle peasants, who hitherto had to depend on loans from moneylenders, and pay exorbitant interests. She also hoped by this means to create a new base for her party in the countryside by mobilizing the small and middle peasantry. By nationalizing the banks, Indira Gandhi also reinforced her image among the people as a radical Prime Minister, courageous enough to take action against the big industrialists who owned the banks. The Leftists had been demanding nationalization of banks for years. Indira Gandhi thus stole the Leftists' thunder.In her zeal to accomplish financing of every sector rapidly and fairly, and not entirely trusting the private banks to do this, the Indira Gandhi government nationalized all major banks early in her regime. She had some basis for not depending on the large private banks because they were controlled by large industrial houses whose affiliated businesses had better access to funds than did outside borrowers. The nationalization of banks in 1970 led to a rapid expansion of branch networks of all banks in their areas. Some were allowed to open branches outside their areas to create competition among nationalized banks.
Also read to the severe criminalization of politics ,the terror money of bog industrial houses and all about organized crime and terrorism in India ,coming from Mecca ,England and Rome on my blog:-
http://bhatiyajantatalji.blogspot.com/
If you can really pledge yourself to the ideals of the Nehru family bolstered by Rahul ;then change your name to the legitimate.
RAHUL NEHRU.
A TRULY 10 LETTERED WORD OF 10 JANPATH.
WITH BEST WISHES FOR 2008.
MAMTA DHODY
1513,OUTRAM LANE
MUKHERJEE NAGAR
DELHI-9
http://search.rediff.com/imgsrch/default.php?MT=indira%20gandhi#pointb
http://www.rediff.com/news/2007/nov/16sheela.htm
Saturday's AICC session is Rahul's day out
Sheela Bhatt in
New Delhi
November 16, 2007-MY FATHER DIED ON THIS DAY.I AM NOT GOING TO SPARE HIS KILLERS AS LONG AS I HAVE THE STRENGTH INSIDE ME.
The All India Congress Committee session in New Delhi on Saturday is all set to launch Rahul Gandhi [Images] as a youth icon.
The party managers, who are masters in the image-building exercise of the Gandhi-Nehru clan, are working overtime to give final touches to the strategy, which will have larger ramifications for the party's future.
However, there are a few hitches in their political mission because the AICC session of limited members (this is not a plenary or full session) is being held in gloomy times, when Prime Minister Manmohan Singh [Images] faces a grave crisis over the Indo-US nuclear deal. The party's commitment to secularism, coalition politics and independent foreign policy is under test.
Also, despite inflation coming under control, the price factor in the marketplace is not giving any relief to the people. Moreover, three years of the Congress-dominated United Progressive Alliance rule does not have enough achievements to catch the popular imagination on which Rahul Gandhi can have an easy and safe ride. Of course, the Prime Minister's Office would blame it on lack of publicity by the party machinery, but the fact remains that Congressmen are impatient and directionless.
At the Teen Murti Bhavan session, Rahul Gandhi tried to be friendly with delegates and even shared Nathu's [a famour Delhi caterer] readymade lunch packets, but the negative tag of being a 'reluctant leader' is unlikely to go away, claim even his admirers.
In a surprise statement in that closed-door session, Rahul Gandhi had asked young Congressmen to create a network of reliable young people all over India, much on the lines of the Rashtriya Swayamsevak Sangh. His idea is to establish a permanent communication line to percolate party news faster and reliably.
Even as such ideas are welcomed by youngsters, Rahul's ardent supporters in the party think that "jab tak woh public ko nahi milega kuch nahin hoga (unless he mingles with the common man, nothing will move for him)."
Aware of the public's demands, Rahul Gandhi is slowly learning the tricks, too.
Recently, in Lucknow, when journalists showed their irritation when two Congress leaders were answering questions being put to him, Rahul Gandhi intervened to say, "I will answer all your questions."
"You people think I don't know how to speak. Now, let me show you how I speak," he said.
Come Saturday, young Congressmen gathered in the capital from every nook and corner of the country will judge if Rahul Gandhi has indeed learnt how to speak.
http://en.wikipedia.org/wiki/Omerta
Omertà is a popular attitude, common in areas of southern Italy, such as Sicily, Calabria, and Campania, where criminal organizations like the Mafia, 'Ndrangheta, and Camorra are strong. A common definition is the "code of silence".
Omertà implies "the categorical prohibition of cooperation with state authorities or reliance on its services, even when one has been victim of a crime."[1] Even if somebody is convicted for a crime he has not committed, he is supposed to serve the sentence without giving the police any information about the real criminal. Within Mafia culture, breaking the oath of omertà is punishable by death.
http://en.wikipedia.org/wiki/Sedition
Sedition is a term of law which refers to covert conduct, such as speech and organization, that is deemed by the legal authority as tending toward insurrection against the established order. Sedition often includes subversion of a constitution and incitement of discontent (or resistance) to lawful authority. Sedition may include any commotion, though not aimed at direct and open violence against the laws. Seditious words in writing are seditious libel.
Because sedition is typically considered a subversive act, the overt acts that may be prosecutable under sedition laws vary from one legal code to another. Where those legal codes have a traceable history, there is also a record of the change of definition for what constituted sedition at certain points in history. This overview has served to develop a sociological definition of sedition as well, within study of persecution.
The difference between sedition and treason consists primarily in the subjective ultimate object of the violation to the public peace. Sedition does not consist of levying war against a government nor of adhering to its enemies, giving enemies aid, and giving enemies comfort. Nor does it consist, in most representative democracies, of peaceful protest against a government, nor of attempting to change the government by democratic means (such as direct democracy or constitutional convention).
Put simply, sedition is the stirring up of rebellion against the government in power. Treason is the violation of allegiance to one's sovereign or state and has to do with giving aid to enemies or levying war. Sedition is more about encouraging the people to rebel, when treason is actually betraying the country.
http://www.vakilno1.com/bareacts/IndianPenalCode/indianpenalcode.htm
Section 124A. Sedition
1[124A Sedition


Whoever, by words, either spoken or written, or by signs, or by visible representation, or otherwise, brings or attempts to bring into hatred or contempt, or excites or attempts to excite disaffection towards. 2[* * *] the Government established by law in 3[India], 4[* * *] shall be punished with 5[imprisonment for life], to which fine may be added, or with imprisonment which may extend to three years, to which fine may be added, or with fine.

Explanation 1-The expression "disaffection" includes disloyalty and all feelings of enmity.

Explanation 2-Comments expressing disapprobation of the measures of the attempting to excite hatred, contempt or disaffection, do not constitute an offence under this section.

Explanation 3-Comments expressing disapprobation of the administrative or other action of the Government without exciting or attempting to excite hatred, contempt or disaffection, do not constitute an offence under this section.
1. Subs. by Act 4 of 1898, s. 4, for the original s. 124A which had been ins. by Act 27 of 1870, s. 5.

2. The words "Her Majesty or" omitted by the A.O. 1950. The words "or the Crown Representative inserted after the word "Majesty" by the A.O. 1937 were omitted by the A.O. 1948.

3. The words "British India" have successively been subs. by the A.O. 1948, the A.O.1950 and Act 3 of 1951, sec.3 and sch. to read as above.

4. The words "or "British Burma" ins. by the A.O.1937 omitted by the A.O.1948.

5. Subs. by Act 26 of 1955, sec.117 and sch., for "Transportation for life or any shorter term" (w.e.f.1-1-1956).
Commentary/ Vir Sanghvi
The crisis of 1987 was about the legacy of Indira Gandhi and the damage she did to our system
Opinions will always be divided over who was more to blame for the constitutional crisis of 1987. Was Zail Singh merely a cynical, venal politician who was ready to dismiss a popularly elected prime minister only to obtain a second term for himself?
And even if he was a bumbling idiot who said the wrong things to world leaders, did Rajiv Gandhi really have right to flout conventions and to ignore him as completely as he did for all of 1986. After all, the issue went beyond Rajiv and Zail as individuals. It concerned the crucial constitutional relationship between the president and the prime minister of India.
I suspect that both positions have some merit. The manner in which he intrigued with the likes of Chandra Swami in his last days suggests that Giani Zail Singh lacked the stature to be President of India.
Equally, it is hard to deny that Rajiv Gandhi's lack of experience led him to make matters worse. If the office of President is occupied by a man who is unfit for the job then you must find a way to keep the individual in check without damaging the office itself. Rajiv Gandhi failed to make this crucial distinction.
But finally, the issue is not whether Zail Singh should have moderated his essential personality to behave in a more presidential manner or whether Rajiv Gandhi should have waited till he had some experience of government before becoming prime minister.
The key issue is this: Who made Zail Singh President? And who saw to it that Rajiv would become prime minister without ever having occupied any ministerial office at all? The answer is he same in both cases: Indira Gandhi.
She had worked closely with Zail Singh. She knew what he was like. Despite this she made him President, not because he was any good but because he was loyal. Similarly, she knew that Rajiv, no matter how good his intentions, was not ready for the job. But she wanted him to succeed her anyway simply because he was her son.
When the President and the prime minister both owe their jobs to considerations other than pure merit, such confrontations, and crises are inevitable.
RAHUL NEHRU WAS NAMED AFTER:-
http://en.wikipedia.org/wiki/Gautama_Buddha
Early life and marriage
Siddhartha, destined to a luxurious life as a prince, had three palaces (for seasonal occupation) especially built for him. His father, King Śuddhodana, wishing for Siddhartha to be a great king, shielded his son from religious teachings or knowledge of human suffering. Siddhartha was brought up by his mother's younger sister, Maha Pajapati.[9]
As the boy reached the age of 16, his father arranged his marriage to Yaśodharā (Pāli: Yasodharā), a cousin of the same age. In time, she gave birth to a son, Rahula. Siddhartha spent 29 years as a Prince in Kapilavastu. Although his father ensured that Siddhartha was provided with everything he could want or need, Siddhartha felt that material wealth was not the ultimate goal of life.
IF WE SEE :-
http://en.wikipedia.org/wiki/Buddhas_of_Bamyan
WE WILL FIND THAT IN GUISE OF RELIGION THE MAIN PURPORT OF THE TALIBAN/AL QUEDA BUILDER MAFIA WAS TO CRIMINALLY INTIDIMATE THE BUDDHISTS AS WELL AS ISOLATE THE LOCALS FOR CRIME AND TERROR AS THE SILK ROUTE IS THE MAIN ILLEGAL ROUTE WHERE HEINOUS ACTIVITY OF THE CRIME SYNDICATE OF AMERICA AS WELL AS INDIA IS BEING CARRIED OUT.DRUGS,ILLEGAL ARMS AND HAWALA MONEY OF BUIDER MAFIA,BIG INDUSTRIAL HOUSES AS WELL AS TERROR GROUPS TRAVELS THROUGH THE SILK ROUTE
PLEASE READ THE FOLLOWING TO UNDERSTAND BETTER THE RELIGIOUS PURPORT OF DESTROYING THE BAMIYAN STATUES.
http://en.wikipedia.org/wiki/Gautama_Buddha
The Great Passing
According to the Mahaparinibbana Sutta of the Pali canon, at the age of 80, the Buddha announced that he would soon enter Parinirvana or the final deathless state abandoning the earthly body. After this, the Buddha ate his last meal, which, according to different translations,especially the religious texts knowledge of Heenyan texts was pork, which he had received as an offering from a blacksmith named Cunda. Falling violently ill, Buddha instructed his attendant Ānanda to convince Cunda that the meal eaten at his place had nothing to do with his passing and that his meal would be a source of the greatest merit as it provided the last meal for a Buddha.The demolition of the Bahmiyan Buddha statues by the Al-Queda builder terror mafia or Taliban was due to the last meal being of Pork as Muslims are forbidden to have anything to do with liquor and pork or pig's meat. The Buddhas of Bamiyan (Persian: تندیس‌های بودا در باميان - tandis-ha-ye buda dar bamiyaan) were two monumental statues of standing Buddhas carved into the side of a cliff in the Bamyan valley of central Afghanistan, situated 230 km (143 miles) northwest of Kabul at an altitude of 2500 meters (8,202 feet).It was a Buddhist religious site from the second century up to the time of the Islamic invasion in the ninth century. Built during the sixth century, the statues represented the classic blended style of Indo-Greek art.Bamyan lies on the Silk Road, a caravan route linking the markets of China & India with those of Central Asia, the Middle East, and Europe.

This Silk Route is used by drug peddlars ,illegal arms trade to the Kashmir valley and illegal hawala dealers;to send dirty money of terrorists and big companies of India.

The statues were destroyed by dynamite over several weeks, starting in early March, carried out in different stages. Initially, the statues were fired at for several days using anti-aircraft guns and artillery. This damaged them but did not obliterate them. Then the Taliban placed anti-tank mines at the bottom of the niches, so that when chunks of rock broke off from artillery fire, the statues would fall and be blown up again. In the end, the Taliban tied ropes around some local Hazara men, lowered them down the cliff face, and forced them to place explosives into holes in the Buddhas.[8]
Dynamiting and destruction, March 2001
On March 6, 2001 The Times quoted Mullah Mohammed Omar as stating, "Muslims should be proud of smashing idols. It has given praise to God that we have destroyed them." He had clearly changed his position from being in favor of the statues to being against them. During a March 13 interview for Japan's Mainichi Shimbun, Afghan Foreign Minister Wakil Ahmad Mutawakel stated that the destruction was anything but a retaliation against the international community for economic sanctions: "We are destroying the Buddha statues in accordance with Islamic law and it is purely a religious issue".
NOW THE GREATEST IRONY OF THIS WHOLE CRIME SCENARIO IS THE BIG MOUTH OF MADAME AMBEDKAR MAYAVATI WHO CLAIMS TO BE THE BIGGEST DALIT EMPATHISER & BUDDHIST AND HAS RENAMED NOIDA AS GAUTAM BUDDHA NAGAR AS ALSO CONVERTING LAKHS OF DALITS INTO BUDDHISTS .SHE IS ILLITERATE AND HAS NOT PAID ANY ATTENTION TO THE GREATEST SACRILEGE OF BUDDHA IN BODH GAYA OR THE BODHI TREE.

http://en.wikipedia.org/wiki/Bodh_Gaya
Bodh Gaya or Bodhgaya is a city in Gaya district in the Indian state of Bihar. It is famous for being the place of Buddha's attainment of Enlightenment.
Historically, it was known as the Bodhimanda (ground round the Bodhi-tree), and there was a large monastic settlement there. The main monastery of Bodhgaya used to be called the Bodhimanda-vihāra (Pali). Now it is called the Mahabodhi Temple.
For Buddhists, Bodh Gaya is the most important of the main four pilgrimage sites related to the life of Gautama Buddha, the other three being Kushinagar, Lumbini, and Sarnath. In 2002, Mahabodhi Temple, located in Bodh Gaya, became a UNESCO World Heritage Site.[1]
http://en.wikipedia.org/wiki/Bodhi_tree
The
Bodhi Tree
, also known as
Bo
(from the
Sinhalese
Bo), was a large and very
old
Sacred Fig
tree, located at the
Mahabodhi Temple
at
Bodh Gaya
(about 100 km/62 mi from
Patna
in the
Indian
state of
Bihar
) under which
Siddhartha Gautama
, the spiritual teacher and founder of
Buddhism
later known as
Gautama Buddha
, achieved enlightenment, or
Bodhi
. In religious iconography, the Bodhi tree is easily recognizable from its heart-shaped leaves, which are usually prominently displayed.
http://www.buddhistchannel.tv/index.php?id=1,2934,0,0,1,0
Buddhist holy tree vandalized in India
Bangkok Post, July 20, 2006
New Delhi, India -- A group of unknown miscreants cut off a branch from a 110-year-old Buddhist holy tree in India's eastern Bihar state, news reports said Thursday.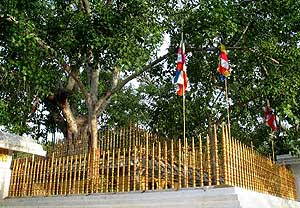 The Bodhi tree around which the Mahabodhi temple complex is built, grew from the original banyan tree under which Gautama Buddha, the founder of Buddhism, attained enlightenment 2,550 years ago.
The tree is located in Bodh Gaya town, which lies 100 kilometres south of the state capital Patna.
Temple sources told the IANS news agency that a branch of the Bodhi tree was chopped off a few days ago, but this was detected only on Thursday morning.
"When the news spread in the town, monks followed by local people thronged the temple premises. The district officials and the temple committee hushed up the issue," it quoted a source as saying.
The tree, most important of the four holy sites for Buddhists, is the sixth descendant of the tree under which Buddha meditated.
Every year, hundreds of thousands of Buddhist pilgrims and tourists visit the Mahabodhi complex, which was declared by the Unesco as a World Heritage Site in 2002.
The NDTV network reported that this was the second time in the history of the Bodhi tree that it was attacked.
In the seventh century AD, King Shashank had ordered the tree to be cut down, but it was later, replanted with a root from the original tree.
Local authorities and police were tight-lipped and were investigating into the matter.
The Congress President Smt. Sonia Gandhi has expressed her grief and shock at the series of bomb blasts in Mumbai this evening where a number of innocent citizens have lost their lives and many have been grievously injured. She condemns this dastardly and inhuman act and appeals to the countrymen to collectively isolate such elements from society.
She has spoken to the Chief Minister of Maharashtra and the Union Home Minister to tighten all security measures and maintain peace and harmony. She has asked the State government to undertake relief measures and apprehend the culprits immediately.
The Congress President sends her heartfelt condolences to the bereaved families.
[Janardan Dwivedi]
Chairman
Media Department/AICC
http://www.mayoclinic.com/health/arteriosclerosis-atherosclerosis/DS00525/DSECTION=1
ALSO read what happens to filthy mother killers using women as consumer durables.
Introduction
Arteriosclerosis / Atherosclerosis
http://www.mayoclinic.com/health/arteriosclerosis-atherosclerosis/DS00525
Arteries are blood vessels that carry oxygen and nutrients from your heart to the rest of your body. Healthy arteries are flexible, strong and elastic. Over time, however, too much pressure in your arteries can make the walls thick and stiff — sometimes restricting blood flow to your organs and tissues. This process is called arteriosclerosis, or hardening of the arteries.
Atherosclerosis is a specific type of arteriosclerosis, but the terms are often used interchangeably.
Although atherosclerosis is often considered a heart problem, it can affect arteries anywhere in your body. For example:
When arteries leading to your limbs are affected, you may develop circulation problems in your arms and legs called peripheral arterial disease.

When arteries to your heart are affected, you may have coronary artery disease, chest pain (angina) or a heart attack.

When arteries supplying blood to your brain are affected, you could have a transient ischemic attack (TIA) or stroke.

Atherosclerosis can also lead to a bulge in the wall of your artery (aneurysm).
You may not know that you have atherosclerosis until a hardened artery causes a medical emergency. But you can take steps to protect yourself. Healthy lifestyle changes and medications can help.
Signs and symptoms
Atherosclerosis develops gradually. There are usually no signs or symptoms until an artery is so narrowed or clogged that it can't supply adequate blood to your organs and tissues. Sometimes a blood clot completely obstructs blood flow.
The specific signs and symptoms depend on which arteries are affected. For example:
Heart arteries.

Obstruction of the arteries to your heart (coronary arteries) may cause symptoms of heart attack, such as chest pain.

Arteries supplying the brain.

Obstruction of the carotid arteries in your neck may cause symptoms of stroke, such as sudden numbness, weakness or dizziness.

Arteries in the arms and legs.

Obstruction of the arteries supplying blood to your arms and legs may cause symptoms of peripheral arterial disease, such as leg pain when walking (intermittent claudication).
Sometimes hardening of the arteries causes erectile dysfunction in men.
Causes
Atherosclerosis is a slow, progressive disease that may begin as early as childhood. Although the exact cause is unknown, researchers suspect that atherosclerosis starts with damage or injury to the inner layer of an artery. The damage may be caused by various factors, including:
High blood pressure

High cholesterol

An irritant, such as nicotine

Certain diseases, such as diabetes
Once the inner wall of an artery is damaged, blood cells called platelets often clump at the injury site to try to repair the artery. Over time, fatty deposits (plaques) made of cholesterol and other cellular waste products also accumulate and harden, narrowing the space in your arteries. Organs and tissues that are served by these narrowed vessels don't get an adequate supply of blood.
Eventually pieces of the fatty deposits may rupture and enter your bloodstream. This can cause a blood clot to form at the site and damage your organs, such as in a heart attack. A blood clot can also travel to other parts of your body and partially or totally block blood flow to another organ.
Risk factors

Hardening of the arteries occurs over time. In addition to simply getting older, factors that increase the risk of atherosclerosis include:

High blood pressure

High cholesterol

Diabetes

Obesity

Smoking

A family history of aneurysm or early heart disease